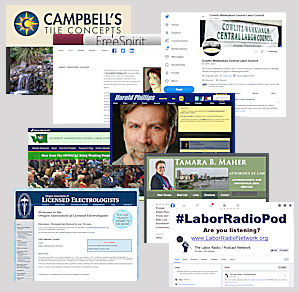 The Internet revolutionized the way we communicate and do business. In this new century, the World Wide Web has become the standard source for information on businesses, people and any subject you can think of. It is imperative for businesses and individuals to establish and maintain an online presence so people can connect with them.
As we dive deeper into the 21st century, though, having a web site isn't enough. A web site is your digital "home base," showing potential contacts the goods and services you have to offer, but there are literally millions of web sites. Cutting through the digital clutter and finding the right contacts for your ventures requires consistent interaction with them through a variety of methods - including email, social media, and "push" messages to digital devices.
Munin has years of experience building and maintaining personal and business web sites - click here to see just a few examples. We focus on creating content-oriented sites with easy navigational tools and a unified look and feel. We also work to integrate your internet marketing strategy with existing and future marketing tools, including social media, so you and your business to put forth a unified message. We offer a wide range of design and graphic manipulation services at reasonable rates calculated to meet your needs.
The Internet used to be a fun luxury - now it's a necessity. Shouldn't you make your mark in the place your future contacts and customers are gathering? Contacting us now to discuss the ways we can help you get your message out.